Home
»
Basement Waterproofing
Our Permanent Basement Waterproofing System in Arlington, Alexandria, Great Falls & Nearby
We offer effective wet basement solutions for all types of basement waterproofing problems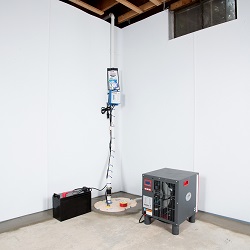 Keep your basement dry all the time. A TripleSafe® Sump Pump System (shown here), combined with a SaniDry® dehumidifier, represents the ultimate in basement waterproofing and humidity control.
No homeowner wants to deal with a damp or wet basement, which is why NV Waterproofing & Foundation Repair provides the best basement waterproofing solutions available. Since 1986, our team of experienced technicians has solved underlying water problems for thousands of homeowners. We provide comprehensive wet basement solutions - including exterior waterproofing and interior water management systems - to resolve your home's water problems once and for all.
If you have water in your basement or want to learn more about our basement waterproofing solutions, call us today at 1-855-649-7594 or click below. We offer free estimates in Arlington, Alexandria, McLean, Gaithersburg, Great Falls and many surrounding areas.
---
The causes of a wet basement and what to look out for
Did you know you can have water issues in your basement without heavy rains or obvious standing water? It's easy enough to see water coming through a crack in your floor or basement wall, but what's the real cause of your basement water problem?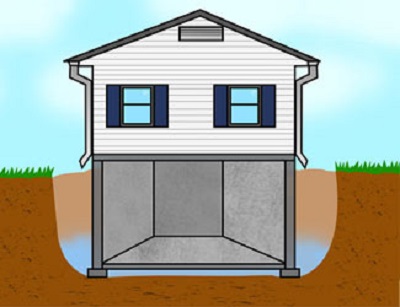 The Clay Bowl Effect
Excavated soil that's replaced around a completed foundation isn't as dense and tightly packed as undisturbed soil farther away. As a result, water collects in the soil immediately surrounding the house, putting pressure on foundation walls and causing cracks.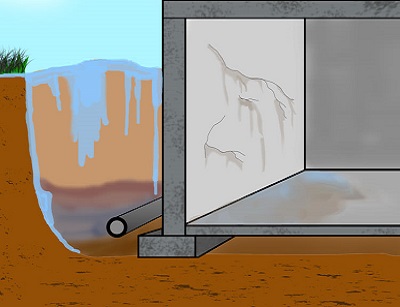 Hydrostatic Pressure
The weight of the water in the soil around the foundation exerts pressure, forcing the water through cracks, gaps, holes, and around windows leading into the basement.
Additional contributing factors may include poor surface water drainage, clogged French drains, broken sump pumps, and high water tables. Also, most homes that are more than a few years old have a waterproofing system that has degraded or been compromised to some degree. The combination of significant water pressure and suboptimal waterproofing systems often leads to wet basements.
Don't wait until your basement floods - look out for these signs:
Musty smell
Water seepage where walls meet floors
Standing water or wet areas
Damp or discolored walls
Peeling, bubbling or cracking paint or wallpaper
---
Customer Testimonials
---
How we solve your basement waterproofing problems
A home with a wet basement can be much more difficult to sell. In fact, a wet basement is one of the most serious "red flags" that deters buyers. The good news: we offer waterproofing products and services to help solve your basement problems fast. Our solutions include:
Interior basement waterproofing
Our team will remove a portion of the concrete slab immediately next to the affected foundation walls. Then we'll dig an interior trench in the treatment area. Next, we'll install a subfloor drainage system.
This will evacuate water from below your basement walls and floors and move it away from your home through sloped, perforated piping connected to a sump pump or redirected to your home's exterior.
Exterior basement waterproofing
Our team will excavate a trench around your foundation and clean the foundation wall thoroughly. Next, we'll repair or replace damaged cement parging and seal cracks, seams, holes, imperfections and subgrade pipes. Then we'll apply liquid rubberized sealant to subgrade walls and install drain board paneling on treated walls. Lastly, we'll install a drainage system that moves water away from your home through sloped, perforated piping connected to a sump pump or redirected to your home's exterior so water can't penetrate your home's foundation walls.
Our system comes with a lifetime written warranty that's transferable to the next owner, so not only does our system restore value to your house, but it also gives homeowners and buyers confidence that their home is protected.
Six great reasons to choose us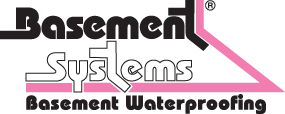 Quality products: Basement Systems® dealers use a complete line of patented, award-winning products that have been keeping basements throughout North America dry for over 30 years.
Fast installations: Our system installs quickly, with most projects completed in just one to two days.
Experienced crews: A crew of experienced contractors will arrive to install your system quickly and professionally. Each one is a waterproofing specialist who dries basements every day.
Cost-effective system: Our waterproofing system can be customized to fit your budget, and it costs about half as much as an exterior waterproofing system. Our system works for both finished and unfinished basements.
Locally-owned and operated company: NV Waterproofing & Foundation Repair is the locally owned and operated member of the Basement Systems network. We have products and training that simply can't be beaten!
Free waterproofing quotes: We offer free waterproofing quotes to homeowners in our service area. Our quotes come in writing, and there's no obligation!
Get expert basement waterproofing services today
Our crews of waterproofers are experienced, well-trained professionals who work in basements and crawl spaces every day. The experts at NV Waterproofing & Foundation Repair have seen it all, and we know just what it takes to keep your basement dry all the time! Plus, we offer a variety of waterproof basement products to level up your basement, including egress windows.
If your basement leaks or floods, or you have mold, mildew or a musty smell, call us today to request a free basement waterproofing estimate in Washington D.C., Arlington, Alexandria, Ashburn, Gaithersburg, Sterling, Bethesda, Gainesville, Silver Spring, Fairfax or nearby. We will send one of our certified basement waterproofing specialists to visit your home and conduct a thorough inspection of your home's basement foundation.
Looking for a price? Get a no cost, no obligation free estimate.