If you're looking for help with your basement waterproofing, foundation repair or crawl space repair project, you need a company that you know will get the job done right the first time. NV Waterproofing & Foundation Repair is the trusted basement, foundation and crawl space contractor in Gaithersburg, MD since 1986.
If your home has basement, foundation or crawl space issues, contact the experts at NV Waterproofing & Foundation Repair today to schedule your FREE evaluation and estimate!
Proven Foundation Repairs in Gaithersburg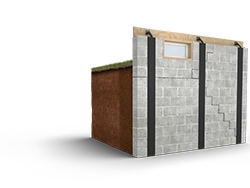 Our carbon fiber straps hold back bowing walls better than steel beams.
The sooner you identify potential foundation problems, the easier and less expensive it is to fix them. We offer solutions for a variety of foundation settlement and problems:
Foundation cracks
Stairs-step cracks in blocks or bricks
Leaning or bowing foundation walls
Rotted posts and joists
Cracks in interior walls
Doors jamming or windows sticking
No matter how big or small your foundation problems, NV Waterproofing & Foundation Repair has a solution. We install wall anchors, wall braces, helical piers, push piers, crawl space support jacks, and more. We use non-invasive methods to repair your home's foundation whenever possible. On top of our 25-year warranty, you will also get the assurance of knowing that your foundation repair was completed using proven solutions.
Wet Basement Repair & Waterproofing in Gaithersburg
We offer a variety of basement products and solutions:
Basement sump pumps
Interior perimeter drainage systems
Basement dehumidifiers
Wall and floor crack repair
Radiant and vapor barriers
Insulated basement wall panels
If your basement floods, has floor cracks that leak, damp walls, or there's a constant musty smell, you likely need basement waterproofing. A waterproofed basement can save you thousands of dollars in flood damage. We install Basement Systems' state-of-the-art sump pumps and interior drainage systems to keep water out of your basement (or crawl space) for good.
Whether you're planning on selling your home or just tired of having a wet basement, our waterproofing specialists can design a customized system for your home. Plus, our basement waterproofing system includes a transferable lifetime warranty, so you or the future homebuyer has the assurance of knowing the basement is protected against water.
To schedule your on-site assessment in Gaithersburg, which includes a free cost estimate, call us at 1-855-649-7594 now or fill out our contact form to request an appointment with us.
Crawl Space Encapsulation & Structural Repair in Gaithersburg
We install a wide range of crawl space products:
Vapor barriers
Crawl space dehumidifiers
Crawl space sump pumps
Access doors and access wells
Crawl space structural support jacks
If you're like most other homeowners, your crawl space isn't used nearly as often as other areas of your home. In fact, you might not use it all, so you might not know there's a problem until it's affecting the rest of your home. Cold floors, bouncy floor joists, drywall cracks, foul odors, and worsening allergy and asthma symptoms are common signs of issues inside the crawl space. If you're experiencing any of these symptoms, it's worth having one of our specialists take a look.
If you have moisture or mold problems in your crawl space, we can install our heavy-duty CleanSpace vapor barrier to keep the crawl space dry. Our crawl space encapsulation system includes a 25-year warranty against rips and tears, so you'll finally be able to use your crawl space for storage without worry!
Free Inspections and Estimates in Gaithersburg, MD
If you're looking to get a cost estimate on your foundation repair, basement waterproofing, or crawl space repair project in Gaithersburg, MD or nearby, contact NV Waterproofing & Foundation Repair today to schedule your no-obligation evaluation, which includes a FREE estimate!