Quality Basement Waterproofing & Foundation Repair in Annandale, VA
Has your home had issues with water in the basement or crawl space? Do you have a cracked or bowing foundation? If so, the local experts at NV Waterproofing are here to help! We've been providing basement waterproofing, foundation repair, and crawl space encapsulation services in Annandale since 1986, and we have the right solutions to help your home.
If you have water in your basement or need foundation or crawl space repair, contact us today to get started with a free estimate!
Keep your home dry and clean with our basement waterproofing system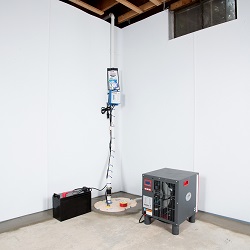 Our basement waterproofing system comes with everything you need to keep your home dry all the time.
No homeowner wants to deal a basement leak and the water damage it can cause. At NV Waterproofing, we provide proven, effective solutions that will eliminate your basement water problems. Our system includes:
French drain and perimeter drainage systems
Sump pumps with battery backups
Energy efficient dehumidifiers
Vapor barriers and waterproofing wall coverings
Foundation repair experts in Annandale
Foundation problems such as bowing walls, foundation cracks, and settlement are a concern any homeowner. We specialize in repairing and stabilizing foundations with our effective, long-lasting foundation repair products. These solutions include:
Foundation pier systems
Wall anchors
I-beam wall braces
Foundation reinforcing systems
Upgrade your home with crawl space encapsulation
The crawl space is usually not a high priority, but what happens there can have a major impact on your home. Damp, ventilated crawl spaces are often the source of mold problems, odors, and structural issues in the home. Our crawl space encapsulation system can eliminate these problems with all of the following:
Durable vapor barriers
Sump pumps with battery backups
Energy efficient dehumidifiers
Crawl space insulation
Crawl space support posts
If you're interested in any of our basement waterproofing, foundation repair, or crawl space encapsulation services, contact us today to get started! We offer free estimates on all our work in Annandale and the nearby areas.