Trusted Basement Waterproofing Contractor in Woodbridge
NV Waterproofing & Foundation Repair has been working in basements since 1986. In that time we've helped thousands of homes with wet or flooded basements. We have the experience homeowners need in a contractor that is going to tackle a complicated waterproofing job. There are many reasons why a basement may be leaking. An old french drain may be clogged, the water table may be too high, or the outside soil may not be pitched away from the house. Whatever the reason may be, we have the solution for your home. We perform both interior and exterior waterproofing services.
The backbone of a good waterproofing system is the sump pump. These pumps are installed below the basement floor and discharge all the water that our system has collected away from the foundation. These pumps will often end up working overtime in order to keep your basement dry. For our clients' peace of mind we only install the most powerful and reliable pumps on the market. We even have the option for battery backup pumps in case of a power outage.
Our other basement waterproofing services include:
Wall Coverings
Dehumidifiers
Basement Window Wells
Crack Repairs
French Drain Systems
Professional Foundation Repair Contractor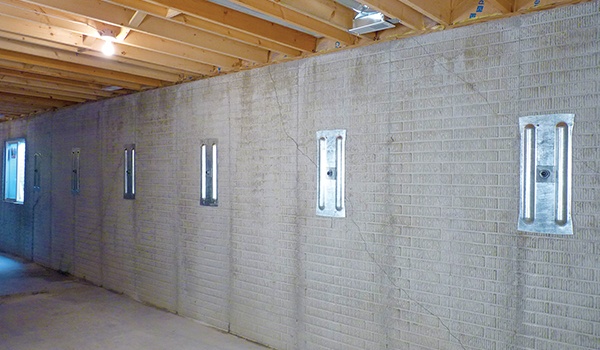 Put an end to your bowing wall problems by having our anchors installed.
To many homeowners, there is nothing worse than realizing that they have a foundation issue. These problems sometimes start out small but if left alone, will develop into something that could compromise the integrity of the whole house. Repair would normally be costly, time-consuming, and invasive. We at NV Waterproofing & Foundation Repair are a part of Foundation Supportworks and use state-of-the-art techniques and tools that help take the stress out home structural repairs. If your home needs stabilization, we have our pier system. If you have bowing walls, we will install our wall anchor system to keep them held back. If you have sagging floors over a crawl space, we have our SmartJack system to lift them back into place. You can trust our team of experts to have the answer to your foundation problems.
Crawl Space Repair and Encapsulation in Woodbridge
If your home is on a crawl space, it is at risk for many issues from humidity to structural. The worst part is that if there is a problem in the crawlspace, it becomes a problem for the whole house. Humidity seeping into the crawl will rise up through the rest of the house. Besides the obvious water damage and mold, the occupants may develop respiratory issues. Allergies and asthma symptoms are both enhanced by a wet crawl space.
Our crawl space waterproofing services will help restore your home back to it's original and comfortable place. We utilize our durable vapor barrier to completely seal the entire crawl space. Combining that with our dehumidifier and thermal insulation, we create a conditioned space under your house that prevents cold and damp air from ever making it into your home. This also makes the house more energy efficient. Not only is your home more comfortable, but you will be saving money on your energy bill as well!
If your basement, foundation, or crawl space is having any problems at all, you can count on the experts at NV Waterproofing & Foundation Repair to give you an estimate to restore your property!