Basement Waterproofing Solutions in Waldorf, MD
Since 1986, NV Waterproofing & Foundation Repair has been servicing homeowners for all their basement waterproofing services. Our trained technicians provide you with a comprehensive analysis of where your water intrusion is coming from, and the proper solution to solve it once and for all. we offer waterproofing results with possible interior and exterior management systems. If your basement hasn't flooded yet, but you are experiencing a musty smell, water seepage, damp or discolored walls, and more, it is time to have your basement checked out by the best people who can solve it the first time. Get in contact with us now for your FREE no-obligation estimate!
Foundation Repairs You Can Count On
We understand that no two foundation issues are alike. Our professionals take the time to evaluate your foundation and come up with the best course of action to approach it. We offer unique solutions that will fix your problem right the first time so you can feel confident in the work you are having done. All our systems come with a written warranty, giving you peace of mind on any and all foundation work. Some of the issues we attend to are:
Bowing Walls
Wall Cracks
Tilting Chimneys
Sticking Windows & Doors
Complete Crawl Space Encapsulations
No part of your house should be left untreated and your crawl space is no different. It is vital that the integrity and structure of your crawl space are working to prevent any mold, rot, or structural damage that may jeopardize the entirety of your home. Our crawl space encapsulation services off you protection against water, mold, foul odors, and possible health risks. Some of the products we use are:
Vapor Barrier
Energy Efficient Dehumidifiers
Drainage Matting
Access Wells
And More!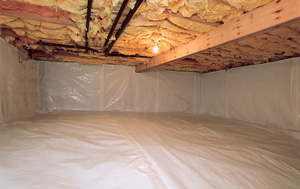 Our complete crawl space encapsulations can help prevent mold, rot, and structural damage.
If you are ready for basement waterproofing, crawl space encapsulations, or foundation repairs, NV Waterproofing & Foundation Repair are the professionals to go to in Waldorf, MD and nearby! Give us a call for your FREE estimate!