If you have a wet basement, crawl space, or foundation problems, NV Waterproofing & Foundation Repair can help. Since 1986, we've helped local homeowners with all their basement waterproofing, crawl space encapsulation, and foundation repair needs.
With an award-winning team and proven products, you'll have the assurance that your job's completed the right way. Plus, our crews are very familiar with the Vienna, VA area, so you can always count on us to be there on time. Contact us today and let us know how we can help you!
Transferable Lifetime Warranty on Basement Waterproofing Solutions
25-Year Warranty on Foundation and Crawl Space Solutions
Same-Day Financing Options
Basement Waterproofing in Vienna
Whatever the cause of your wet basement, NV Waterproofing & Foundation Repair has a solution. If your basement floods in heavy rain, or is always damp and musty, our waterproofing and moisture control solutions could help. If your sump pump or drainage system aren't working like they should, we can recommend a better option. We're homeowners too. That's why we only install products that we know work.
Multi-pump, cast-iron, submersible sump pump systems with built-in high water level alarm
Battery backup pumps for continuous operation and protection in power outages
Clog-resistant interior drainage channel - Collects water from walls and drains it away before it reaches the floor
ENERGY STAR-rated SaniDry dehumidifier - No water buckets to empty and has a built-in air filter to trap mold spores and dust
Crawl Space Encapsulation & Repair in Vienna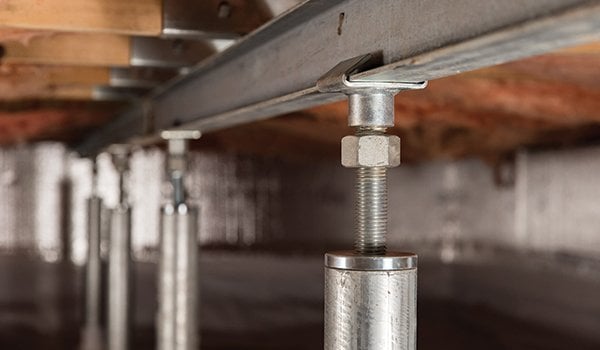 We sealed and stabilized this crawl space with our innovative tools.
Did you know that your crawl space could cause musty odors and cold floors upstairs? If you have a vented crawl space with moisture, mold, mildew, rot, or pest problems, we can help.
At NV Waterproofing & Foundation Repair, we use the CleanSpace encapsulation system to seal your crawl space from outside air. This will help stop moisture and mold problems.
We offer a variety of crawl space solutions, including:
Vapor barriers
Dehumidifiers
Sump pumps
Access doors and access wells
Crawl space support jacks
Warrantied Foundation Repair in Vienna
Foundation problems only get worse over time. If you notice cracks in your foundation, basement walls that are bowing or any other sign that something's not right, let one of our foundation specialists take a look - you'll be glad you did. The sooner you take care of your foundation, the less money it will cost you in future repairs.
Some common signs of foundation problems are:
Sagging floors and floor cracks
Wall cracks
Bowing walls
Sticking doors and windows
Tilting chimneys
With patented helical piers, push piers, wall anchors and crawl space jacks, we can handle any foundation problem. Normal settlement can cause foundation cracks, but they could also mean a serious structural problem.
We never recommend a solution that you don't need. Our goal is to educate you on all the options and let you choose the best solution for your needs and budget.
To schedule your in-home consultation with a free written estimate, contact us today! We offer our basement waterproofing, crawl space repair and foundation repair services in Vienna, VA and the surrounding areas.