NV Waterproofing & Foundation Repair has been providing basement waterproofing services in Sterling, VA since 1986. We have successfully transformed basements and crawlspaces and have provided foundation repairs to alleviate any further cause for concern. Get in contact with us today and let us diagnose and provide you with a solution to take on your home's problems!
Proven Basement Waterproofing Solutions for Sterling, VA
No matter the time of year, it is always possible for water to find its way into your home. During periods of significant snowfall or heavy rains the water build up and moisture in the soil will find a way to relieve itself, thus finding a way into your home. If you have insufficient surface water drainage, clogged French drains, or even a damaged sump pump, you may be more prone to experiencing water seepage into your basement or crawlspace. Luckily for you, it doesn't matter the cause, because NV Waterproofing & Foundation Repair has the right solution for your basement waterproofing. Our trained professionals are able to come into your home and correctly diagnose the reason of water intrusion and present you with the best course of action to take to solve this problem once and for all. We do both interior and exterior basement waterproofing to ensure that the problem doesn't continue to happen and you are left with a lasting result.
Foundation Repair Problems Solved
Realizing you need foundation repairs done can be disheartening, however, don't let it be with the help of NV Waterproofing & Foundation Repair's professionals. No two houses are the same and no two projects should be repaired as such. We provide and install patented foundation repair solutions that have been custom tailored to your home and provide you with the proper fix you need. Some common foundation problems include:
Cracked or Bowing Walls
Uneven Floors
Tilting Chimney
and more
Complete Crawl Space Encapsulations
Each and every part of your home plays a significant role in the integrity of the rest of your house. If you are noticing that your crawl space is beginning to rot, grow mold, or experience problems with the structure, give NV Waterproofing & Foundation Repair a call and let us get started on your crawl space repairs. With our crawl space encapsulations, we can assure that no water or moisture can get past our vapor barrier system resulting in no mold or rot growth. Our crawl space products are specifically designed to contour to the shapes and edges of your crawl space. Get in contact with us for your FREE no-obligation estimate and let us get started on your crawl space encapsulation.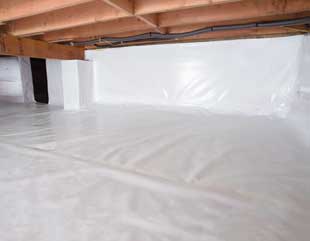 Crawl space encapsulations providing prevention against mold, rot, and structural damage
Energy Efficient Dehumidifiers
When humid air gets into your basement or crawl space, the potential for mold and rot grows exponentially. The humidity will begin to condense and if the water is left standing, it can affect the structure of your house. Our energy efficient dehumidifiers pack a whole lot of punch in a small and condensed package. As the dehumidifier pulls the moisture out of the air, mold can't stand a chance, leaving you with a dry, safe, area. Get in contact with us today and see how our dehumidifiers can be the answer you've been looking for!
For basement waterproofing, crawl space encapsulation, and foundation repairs, there is no better company to call than NV Waterproofing & Foundation Repair. Get in contact with us today for your FREE no-obligation estimate!