The Preferred Basement Waterproofing Contractor in Springfield
NV Waterproofing & Foundation Repair has been repairing basements since 1986. In that time we have gained the experience necessary to handle any wet or flooded basement. If the problem is coming from a grading issue in the yard or from hydrostatic pressure behind the foundation walls, we will be able to provide a solution to permanently solve it.
A basement waterproofing system is only as good as its sump pump. These pumps are the key fixture that takes all the collected intruding water and sends it away from the home so it can no longer do any damage. Our sump pumps are tested for high-volume activity and are extremely durable. For added peace of mind, we also install battery backup pumps in case of a power outage.
Our other basement waterproofing services include:
Wall Coverings
Dehumidifiers
Basement Window Wells
Crack Repairs
French Drain Systems
Expert Foundation Repair Services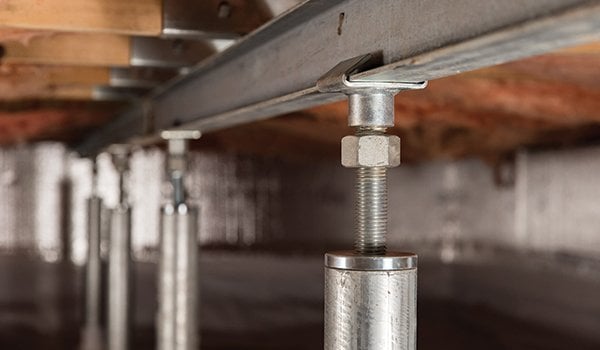 Stabilize sagging floors with our support jacks.
If you have noticed cracks in your walls, uneven floors, or jamming doors and windows, you may be experiencing a foundation problem. These problems look small at first but if left alone, will develop into something that could compromise the integrity of the whole house. We at NV Waterproofing & Foundation Repair are members of the Foundation Supportworks Network. We use industry leading techniques and tools that repair your home's foundation as painlessly as possible. Our crawlspace jacks easily put an end to sagging floors and our wall anchors will keep your bowing walls from collapsing. You can expect the best from our crews.
Crawl Space Stabilization and Encapsulation Services in Springfield
A common issue for all crawl spaces is moisture. Humidity naturally seeps up from the soil in crawl spaces and then is dispersed throughout the whole house. This causes wood rot, mold, and health issues. Allergies and asthma patients will experience heightened symptoms in a home with a wet crawl space.
Contractors originally thought that ventilation helps this issue. Today we know that the crawl space needs to be sealed. We encapsulate the floors and walls with our vapor barrier and then use dehumidifiers and thermal insulation to create a conditioned space under your house. The cold and damp air from the ground and outside doesn't make it into your home. Now your home is comfortable, healthy, and energy efficient!
If your basement, foundation, or crawl space is having any problems at all, you can count on the experts at NV Waterproofing & Foundation Repair to give you an estimate to restore your property!