Below Grade Repair Contractor You Can Count On
NV Waterproofing has been providing the local community with expert basement waterproofing, foundation repair, and crawl space encapsulation since 1986. We are your trusted source for any and all below-grade home issues you may have. Whether you have a leaky basement, or cracking and uneven walls, NV Waterproofing has the proven products and solutions to fix any basement, crawl space, or foundation issue big or small!
If your home is in need of below-grade repairs of any kind, do not hesitate to give us a call at 1-855-444-0215 or contact us online to schedule your free, in-home cost estimate for any of our services!
Crawl Space Encapsulation in Reston, VA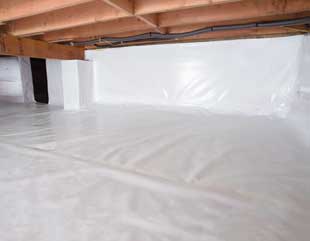 CleanSpace Encapsulation System addresses all problems in your crawl space at once.
Many Virginia, District of Columbia, and Maryland homes are built on crawl space foundations, or even have crawl spaces in between floors of the home. An unmaintained crawl space can become a source of many issues for a homeowner if problems are not addressed right away.
You should know to look for signs of crawl space structural failure including drywall cracks, uneven floors, or gaps between floors and the wall. If you see any of these signs in your home, call NV Waterproofing right away before the issue becomes even more.
On top of that, other crawl space issues like mold and mildew growth, and lack of insulation can be making the rest of your home uncomfortable or even unhealthy for your home's inhabitants. Look for signs of musty smells and foul odors in and around your crawl space. With an unsealed and non-insulated crawl space outdoor air and mold spores easily get into your living space while your conditioned indoor air easily escapes. As air escapes your home becomes harder to heat and cool, thus causing your energy bill to go up. To stop all of these common crawl space issues, give us a call today to see how we can repair your crawl space with our proven CleanSpace crawl space system and more!
Trusted Foundation Repair Reston, VA
Some signs of crawl space structural failure could also be signs of a more serious foundation problem. If you see any signs of floor cracks, bowing walls, and spaces between your walls and floor/ceiling now is the time to evaluate the state of your foundation. At NV Waterproofing we have solutions to fix any foundation problem including foundation pier systems, foundation wall anchor systems, and crawl space support posts. We have the proven solutions for any foundation problem large or small. Give us a call today to see how we can help your home!
Proven Basement Waterproofing Solutions
Floor cracks expose basements to water underneath the slab and cause wet spots.
When it comes to wet basements, NV Waterproofing has seen everything. From basement leaks to full basement flooding, we fix it all and provide long lasting basement waterproofing solutions to keep your basement dry and waterproofed for years to come. We have a wide selection of basement waterproofing products and systems to choose from and our technicians are trained to work with each homeowner to design a unique system that will work best for you and your home.
Some signs homeowners should outlook for include: musty smell, water seepage where the wall meets the floor, standing water or wet areas, damp or discolored walls, and peeling, bubbling or cracking wall paint.
If you see any of these signs or any other problematic signs in your basement, crawl space or with your foundation, don't wait! Give NV Waterproofing a call at 1-855-444-0215 or contact us online to set up your free, in-home repair cost quote in Reston and nearby today!