If you have had the misfortune of experiencing water in your basement or crawlspace, or if you have a shifting or failing foundation, we at NV Waterproofing & Foundation Repair can help. We have a knowledgeable and award-winning team of experts, as well as, tested and proven products that can handle your issues. If you have a damp crawlspace, we can encapsulate it. If you have a bowing foundation wall, we can stabilize it. Homeowners in Germantown count on us to help save their homes. Contact us today and we can help you!
The Experienced Basement Waterproofers in Germantown
NV Waterproofing & Foundation Repair has been in business since 1986. In that time we have waterproofed and repaired thousands of basements and foundations. We have seen any basement water issue that you can imagine. We know exactly how to tackle any problem from clogged drain tiles to hydrostatic pressure behind your foundation walls. We will make sure that your basement is as dry as a bone!
When installing a waterproofing system, you want to make sure that it has a sump pump that you can trust. These pumps are the heart of the system because they discharge the collected water away from your home. Our pumps are designed to handle a high volume of water and to last through heavy storms. We even install battery backup pumps in case of a power outage. We want to make sure that homeowners don't have to worry about their basements ever again.
Our other basement waterproofing services include:
Wall Coverings
Dehumidifiers
Basement Window Wells
Crack Repairs
French Drain Systems
Your Expert Foundation Repair Contractor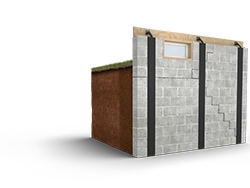 We reinforce bowing walls with these carbon fiber strips that are stronger than steel.
Many homeowners in Germantown don't realize that they have a foundation issue until massive damage has occurred. The early warning signs include settling floors, bowing walls, jamming windows, and cracks in the drywall. It is easy to mistake these problems as being small issues that are unrelated. Unfortunately, if they go ignored, you will have a more serious problem on your hands. We at NV Waterproofing & Foundation Repair can help you stabilize your home and restore your foundation's integrity. Our piers will keep your foundation locked in place. We have wall braces and anchors to keep bowing walls from moving. We also have support jacks to keep floors from sagging over crawl spaces. You can count on us to have the answer to your foundation problems.
Encapsulating Crawl Spaces in Germantown
Crawl spaces have always been a natural magnet for humidity issues. To avoid this, they were constructed with ventilation so that damp air could escape. Science has shown that homes pull air up through them. That means that air is drawn into the crawl space from outside and then sent through the main living space of the home. The building itself will fall victim to structural damage from the humidity and the occupants can develop serious health issues from mold growth.
In order to fully stop crawl space humidity, we seal the walls and floor of the area with our deluxe vapor barrier. We install our quality, energy efficient dehumidifier to eliminate any lingering moisture. The home now has a conditioned space under it that makes it more comfortable and more affordable to heat and cool.
If your basement, foundation, or crawl space in Germantown is having any problems at all, you can count on the experts at NV Waterproofing & Foundation Repair to give you an estimate to restore your property!