If you have problems with your foundation, crawl space or wet basement, NV Waterproofing & Foundation Repair can help. Since 1986, we've helped homeowners in Chevy Chase, MD with all their foundation repair, basement waterproofing and crawl space encapsulation needs.
We have an award-winning team and proven products, so you'll be assured that your project is completed the right way. Our crews are familiar with the Chevy Chase area, so you can count on us to be there on time. Contact us today and let us know how we can help you!
Transferable Lifetime Warranty on Basement Waterproofing Solutions
25-Year Warranty on Foundation and Crawl Space Solutions
Same-Day Financing Options
Wet Basement Repair & Waterproofing in Chevy Chase
No matter what's causing your wet basement troubles, we have a solution:
Sump pumps
Interior drainage systems
Dehumidifiers
Basement windows
Wall and floor crack repair
Radiant and vapor barriers
Insulated basement wall panels
If your basement leaks, floods or is always damp, NV Waterproofing & Foundation Repair can give you a dry basement with our waterproofing system and moisture control solutions.
We install primary sump pumps, battery backup pumps and clog-resistant interior drainage systems to direct water away from your foundation. Our waterproofing specialists can design a system that addresses your home's specific needs.
Crawl Space Encapsulation & Repair in Chevy Chase
We install a variety of crawl space solutions:
Vapor barriers
Crawl space dehumidifiers
Crawl space sump pumps
Access doors and access wells
Crawl space structural supports
If you're like most homeowners with a crawl space, this area is probably one that you avoid. As a local crawl space contractor that's been in business for many years, we've seen it all - puddles of water, moldy floor joists, and even dead critters.
The problems below your home could be affecting your comfort and air quality upstairs. Do you smell musty odors or have cold floors in the winter? Then you might benefit from our CleanSpace crawl space encapsulation. Our heavy-duty crawl space liner is warrantied for 25 years against rips and tears!
Contact us to learn more about all our crawl space solutions.
Foundation Repair Solutions in Chevy Chase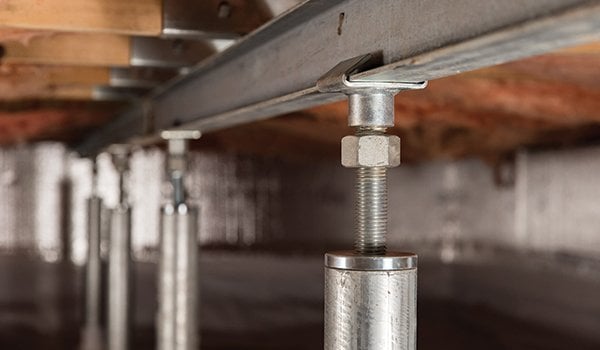 Stabilize floors with our SmartJacks.
Common signs of foundation troubles are:
Sagging floors and floor cracks
Wall cracks
Bowing walls
Sticking doors and windows
Tilting chimneys
If you've noticed any of these problems around your home, don't panic! Instead, call in the friendly professionals at NV Waterproofing & Foundation Repair. Using a variety of products including helical and push piers, wall anchors, shotcrete, and crawl space jacks, we can support and restore your foundation with these minimally invasive methods.
Ready to get started on your foundation, crawl space or basement repair project? Contact NV Waterproofing & Foundation Repair today to schedule your free on-site estimate in Chevy Chase, MD or the surrounding area.