Count On Us For All Your Below-Grade Repairs
Since 1986 NV Waterproofing & Foundation Repair has been providing Bowie, MD with expert basement waterproofing, crawl space encapsulation, and foundation repair solutions. We pride ourselves on doing the job right the first time, leaving homeowners with proven below-grade repairs that will last for years to come. Whatever your basement, crawl space, or foundation problem is, NV Waterproofing & Foundation Repair has the skills and products to give you the best quality repairs possible.
If you have noticed any signs of a leaky basement, wet crawlspace, or any foundation or crawl space structural issues, give NV Waterproofing & Foundation Repair a call at 1-855-649-7594 right away to schedule your free, in-home repair cost estimate!
Foundation Repair Done Right
Many homeowners are unaware of the conditions of their home's foundation. If your home is experiencing any signs of foundation failure including floor cracks, bowing walls, and spaces between your walls and floor/ceiling, now is the time to evaluate the state of your foundation. At NV Waterproofing & Foundation Repair we have solutions to fix any foundation problem large or small, including foundation pier systems, foundation wall anchor systems, and crawl space support posts. Give us a call today to see how we can help fix your home!
Fix Your Wet Crawl Space in Bowie, MD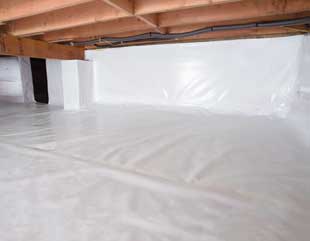 CleanSpace Encapsulation System addresses all problems in your crawl space at once.
If your home has a crawl space foundation, any structural issues with your home can often be pinpointed to that area. If your home is experiencing any signs of crawl space structural failure including drywall cracks, uneven floors, or gaps between floors and the wall, now is the time to call NV Waterproofing & Foundation Repair to come evaluate before crawl space structural failure becomes an even bigger issue.
On top of that, other crawl space issues like mold and mildew growth, and lack of insulation, can make the rest of your home uncomfortable or even unhealthy for your home's inhabitants. With an unsealed and non-insulated crawl space, outdoor air and mold spores easily get into your living space while your conditioned indoor air easily escapes. This causes your energy bill to go up with all the wasted energy, plus it causes your indoor air quality to decline.
See how much money and energy you can save with NV Waterproofing & Foundation Repair's complete CleanSpace crawl space encapsulation system!
Bowie, MD Proven Basement Waterproofing Solutions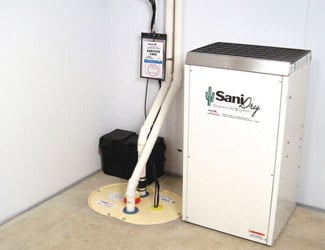 Our basement waterproofing system provides peace of mind all year long!
There is no basement too wet we can't fix it! From basement leaks to full-blown basement flooding, we fix it all and provide long-lasting solutions to keep your basement dry and waterproofed for years to come.
If you notice any signs of musty smells/odors, water seepage on the walls, standing water or wet areas, damp or discolored walls, and peeling, bubbling or cracking wall paint in your basement, call NV Waterproofing & Foundation Repair right away! We have a wide selection of basement waterproofing products and systems to choose from and our technicians are trained to work with each homeowner to design a custom system that will work best for you and your home.
NV Waterproofing & Foundation Repair is your best bet for any and all below-grade home repair issues. We have seen it all when it comes to basement, crawl space, and foundation problems, so let us come prove it to you with a free, no-obligation home repair cost quote today!